The Newest Events Venue in Rizal Opens Its Doors for Quaint and Intimate Celebrations

Casa Bella Events Place opens its doors for Rizal locals to celebrate life's precious moments in the comfort of their neighborhood.
Located at #14 Neptune St., Tancinco Subdivision, San Isidro, Taytay, Rizal, this event venue caters to intimate social gatherings and celebrations, including weddings, debuts, dedications, birthday celebrations, and other corporate events.
Not your Ordinary Events Place in Taytay
Casa Bella Events Place is unlike any other. For starters, it was created for the family.
It was as a house built for a family of six: five sisters and a brother. It was where they took their first steps and grew to become the people they are today.
But with their parents' passing, the old house became a lonely place. So the Cruz sisters decided to rebuild it into a new venue where they can share new memories with their children and grandchildren.
They started rebuilding the place from scratch, incorporating old and new elements into it.
They used the old marble floors from their ancestral house as flooring for the hall. The old pillars became the new stronghold of the building.
The old doors became the new ones for the holding area and the conference hall.
The chandeliers that used to hang in their ceilings now decorate all the rooms.
And the furniture from the ancestral house has now become the pieces that give Casa Bella Events Place its unique, cozy feel.
The result is a stunner. And with the lights on at night, it is a sight to behold.
But because life gets too hectic, they realized the place was too good to be left unused for the rest of the year.
So the sisters decided to let people into their home at Casa Bella.
Thus, Casa Bella Events Place opened its doors for other families, colleagues, and friends who want to create beautiful and lasting memories of their own.
A Hidden Gem in the Heart of Taytay, Rizal
Casa Bella offers its visitors a unique experience. Stepping into its doors is like stepping into another world of elegance and sophistication.
It has the looks of the charming towns of Portugal, and the cobblestones make you feel like you're walking in the streets of France.
The fountain's trickle sets the mood for a relaxing, cold drink by the mini-bar under the night sky.
Casa Bella Events Place can accommodate 100 to 150 guests, and its fully air-conditioned hall will ensure that guests have a comfortable stay.
It boasts of high vaulted ceilings with four large chandeliers that give the place its elegant, hotel-like feel.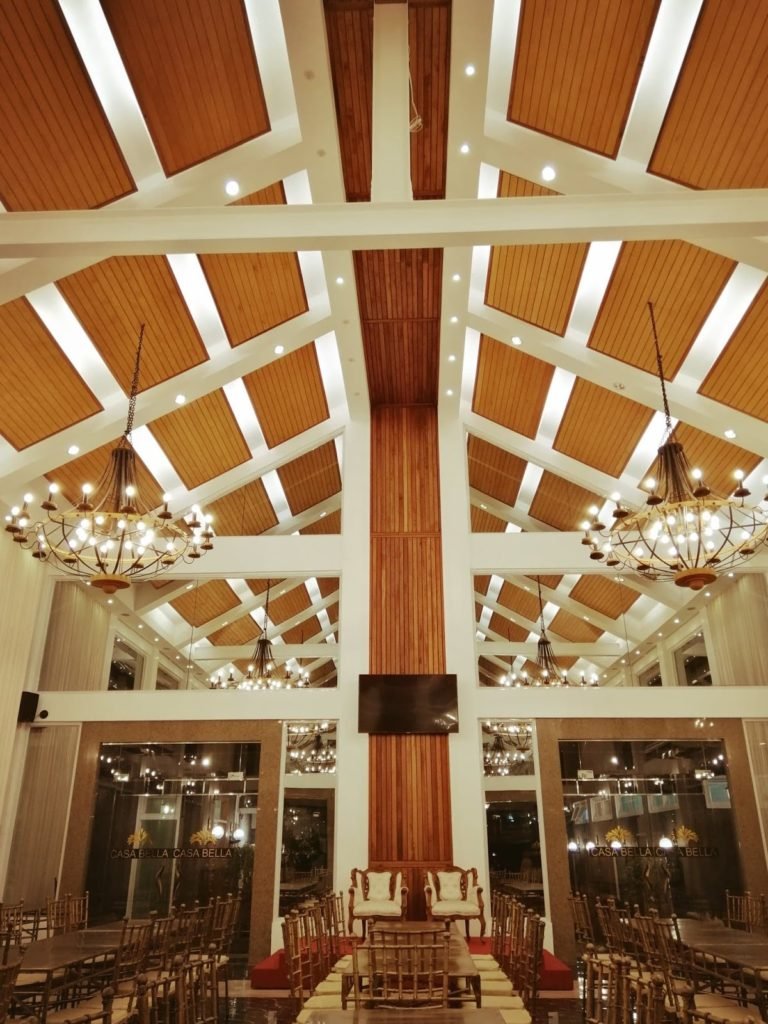 It is also equipped with a standby generator to give you a worry-free experience on your special day.
Casa Bella also has handicap-friendly facilities for better accessibility to your guests.
The place provides a gated parking space where 30 vehicles can fit with ease.
On top of that, Casa Bella Events Place has CCTV cameras installed in and around the premises to ensure the safety and security of the guests.
Casa Bella Events Place also offers facilities for smaller groups, company meetings, and corporate functions.
Our fully air-conditioned conference room can accommodate up to 20 people comfortably. It is also equipped with wifi access, an LED TV for audiovisual presentations, and a whiteboard for minutes and other notes.

Guests are also assured of the following facilities:

Use of 3×2 Meter Stage
Basic Sound System
Use of LED TVs for Audio Visual Presentations
Gold Rustic Tiffany Chairs for 100 guests
Use of Registration and Gift Tables
Alfresco Bar featuring a lighted Fountain
Separate Male and Female Comfort Rooms
On-site maintenance staff
This makes it a perfect venue for intimate celebrations and life's monumental events.
Experience your precious moments with us at Casa Bella Events Place today!